Yukon Dan is proud to Thank the following sponsors to bring his "hands on" gold panning presentation to schools and in Supporting a Fun & Educational event "Fraser River Gold Panning Championships" :





The 2017 Fraser River Gold Panning Championships
August 17th - 20th. Anderson Creek Campground Boston Bar BC

FREE Gold Panning for all! August 17th & 18th! Gold panning on the Fraser River in Yale from 1:00 p.m. until 4:00 p.m.
All you need to bring are your boots!

Directions ( from Hope): turn right at the museum in Yale, then drive two blocks to Front Street, turning left. Parking is 400 yards ahead on the right hand side. Then look below - you can't miss us!

Contact Bernard from Anderson Creek Campground for campsite (604-867-9089) OR Canyon Alpine RV Park & Campground (604-768-7616)

Fraser River Rafting Trip September 23rd & 24th, 2017.
We meet in Yale at the Fraser River Rafting home base. Then, we'll take a bus to Lytton, hop on motorized rafts (with professional guides), float down river, stop for lunch, play in the dirt and find real gold in minutes!
Next stop, we set up camp & pan for the next two days - the gold you find, you keep! Bring your own camping gear, but all food, drinks, transportation, Yukon Dan's gold panning equipment and guidance is all included. ONLY $425.00 per person.
Book with Sue or Darwin at Fraser River Rafting - 604-863-2336 or 1-800-363-7238
Any concerns please contact Dan at 604-948-4941
There are ONLY 22 spots available, so BOOK AS SOON AS POSSIBLE.

"GOLD FEVER" will be had by all!

---
Dan Moore was the silver medalist for Canada's National Team at the 1998 World Gold Panning Championships held in Coloma California. Dan, better known as "Yukon Dan", is a professional gold panner who brings his hands-on presentation to schools. Dan will follow the Prescribed Learning Outcomes that teachers focus on with their students. This workshop takes place in your own classroom where the students rotate to three different stations; they will pan for real gold, separate minerals with a magnet of fool's gold and then do a word search about mining terminology. Dan is more then happy to work within the teacher's curriculum to tailor his extremely interesting workshop. The historical knowledge the students receive is overwhelming, the atmosphere in the presentation room will be buzzing with Gold Fever. Whether you are teaching about our Canadian History, Social Studies, Rocks & Minerals, Gold Rushes or Earth & Science, give Yukon Dan a call.

Dan also has an extensive collection of gold related items such as nuggets, flakes, rare coins, and minerals (silver, quartz, copper, platinum, and fools gold). Yukon Dan is more than happy to teach the art of panning for gold to any eager audience.

Book early to avoid disappointment.


Yukon Dan & Stephanie won four awards at the Barkerville Gold Panning Championships 150th Anniversary.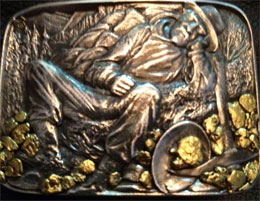 1st prize won by Yukon Dan at Barkerville's "2012" Gold Panning Championships.